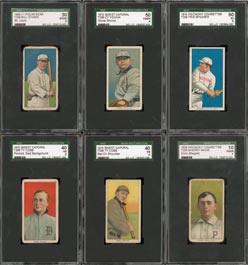 Sportscard Guaranty or SGC, bills its holder as "the finest in the sportscard hobby, thanks to its unique, custom-fit design"  SGC offers two holders - one for regular to small cards, and another for oversized cards. The SGC holder has a custom-fit insert specifically manufactured to the size of the card to help hold the card securely, protecting it from being damaged from movement. The black insert does show off vintage SGC graded baseball cards quite well.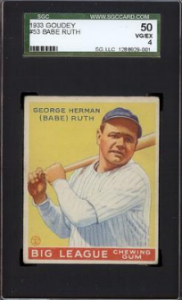 SGC's grading scale includes both its own two-digit formula and a single numeric grade, a/la PSA.  You can see the SGC grading scale here.
A smaller company, SGC is based on the east coast and is usually present at most of the major sports card shows, where they greet very loyal customers, especially those who collect cards from the first half of the 20th century.  They have been very well received by long-time collectors, who swear by the accuracy and knowledge of the staff.  Unlike PSA, SGC does not require a membership for collectors to submit cards for grading.  Prices range from just a few dollars per submission to a few hundred, depending on the level of service and what's being graded.
SGC also has its own population report for the sets and cards it grades.  Cards graded by the company have rarely come under scrutiny by collectors for inaccurate grading, however the company processes far fewer cards than its larger rival, PSA.
The number of SGC graded baseball cards offered for sale online includes many of the hobby's most rare and desirable pre-War cards.  You can see what's currently available in an SGC holder on eBay here
.  Usually, you'll find more than 10,000 listings.