The trend of tobacco cards continued as the 20thcentury unfolded.  The sports card hobby's most popular vintage baseball card set is undoubtedly the 1909-1911 T206 set, issued via more than a dozen different brands by the American Tobacco Company.  It's home to the famous T206 Honus Wagner card, and contains more than 500 cards.  Fairly prevalent even today, lower grade common cards from this set of major and minor league players can be purchased for less than $25 in many cases.  Famous names will cost more, but for the collector on a budget chasing Pre-War baseball cards, there's nothing quite like saving up for an authentic Ty Cobb, Christy Mathewson or Walter Johnson.  Each player has several cards in the set.
Since we already have a section on 19th century baseball cards, we'll focus only on cards issued from the early 1900s-1941.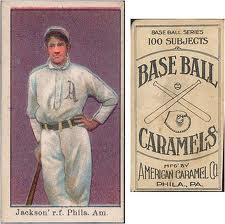 Caramel cards are also popular among collectors of early 20th century memorabilia.  Joe Jackson's first big league card was a caramel card, the E-90-1, although he did have a minor league card issued by Old Mill Tobacco.  Collectors have debated the merits of each of those inaugural Joe Jackson baseball cards for years.
Several different sets of E cards were issued for a number of years and they remain as popular as they were when the local candy shop handed them out more than 100 years ago.
The "W" series of strip cards were often issued at candy stores as well.  Rather crude drawings of some of the well-known players of the day are among the cheapest cards from the era.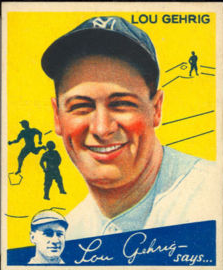 1930s baseball cards are dominated by the Goudey Gum Company, which brought bubble gum cards to retail outlets all over the country.  Produced on a fairly large scale, the 1933 Goudey set includes several Babe Ruth cards as well as Lou Gehrig, Dizzy Dean, Tris Speaker and dozens of others.  Goudey issued a smaller set, without Ruth but advertised by Gehrig the next year.
The 1934 Goudey baseball set is much more affordable if slightly less power-packed.  Goudey also produced other, less popular but still collectible sets for the rest of the decade.
From 1934-36, National Chicle issued a gum card set known as Diamond Stars.  The art deco design is interesting, despite the absence of Ruth and Gehrig.  The Diamond Stars are often available at very attractive prices, except for the final cards in the set, which are quite a bit more expensive.
The 1939 Play Ball set launched a series of three sets that also have a strong following.  The black and white cards are square in size and feature a slightly glossy photo.  Play Ball cards were also issued in 1941 and '42.
Some pre-War vintage issues have proven to be very good baseball card investments including the 1914 Baltimore News and 1916 Babe Ruth rookie cards, high grade T206 cards and various others that have proven difficult to find for even the most advanced collectors.
There are numerous other sets from which to choose including some of the early Exhibit cards, often sold at fairs and carnivals during the era.
Looking to sample pre-War cards on a low budget?  Here are five you can afford.
Collectors Pre-War baseball cards can often be a serious bunch, intensely interested in even the most minor variation, error or quirk.  They are often blessed with disposable income that makes it a challenge to compete against them at auction.  However, there are luckily enough cards out there, even from decades past, to provide comfortable space to every level of collector.  How many are out there?  On an average day, you're likely to find 15,000-20,000 singles available.  Click here
to see what's on the block right now.