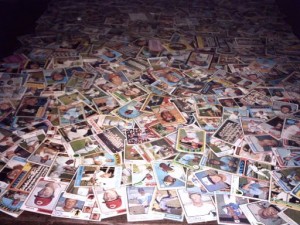 Huge numbers of collectors browse eBay every day, looking for cheap baseball cards.  Here are some tips in how to get the most bang for your buck when building your collection or looking to turn a profit.
Obviously, we're big believers in graded baseball cards.  Grading tends to eliminate any question about whether a card may have been altered by trimming or other methods to make it look better than it really is.  It's still possible, though to buy ungraded cards, have them graded and enjoy the increase in value if you've got a good eye.  Collectors usually pay more for graded cards.  It's as simple as that.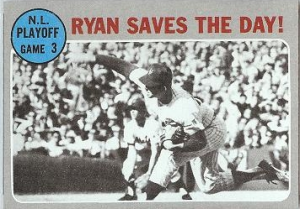 If you're buying ungraded vintage baseball cards, see if the dealer is selling graded cards too.  If he is, that generally means there's a reason he didn't have the card you're looking at graded.  Maybe it has print marks that will drop it from a mint 9 or near mint 8 card to an EX 5 in the eyes of the grader.  If he doesn't ever sell graded cards (search by "completed items" to get his last month of sales), chances are he doesn't believe in it or just doesn't want to be bothered.  In that case, maybe the "near mint" Hank Aaron card he's selling is actually a 7 or an 8.  Just make sure you look very closely at enlarged images and ask the seller any questions before the end of the auction.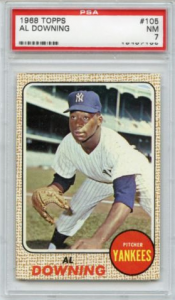 If you are buying graded cards, we're also bullish on the PSA 6 and PSA 7 grades for most vintage sets (or their SGC and Beckett equivalents). Often, a PSA 6 has just two light touches of wear or maybe a small nick in the side.  PSA 7s often look identical to 8's except for a tiny touch of wear on a corner or they're 9's hiding in a 7 holder because they don't quite meet the stringent centering requirements of a 'mint 9' card. You can buy 7s for a fraction of the cost of an 8 or 9 in many cases.
We don't recommend buying cards PSA has graded with "off center" qualifiers.   Without that qualifier the card would drop two grades not to mention the fact that for many collectors, centering is a very important factor in a card's eye appeal.  The card may be inexpensive for the grade, but is it a wise buy?  Sometimes, perhaps.  It's a judgment call in that case.  Remember...buy the card, not the holder.  It's wise advice, too, when you're looking for the best baseball cards to invest in.
When putting together vintage graded sports card sets, buying a straight 7 gives you the best of both worlds—a nice quality set that's very sellable if you eventually want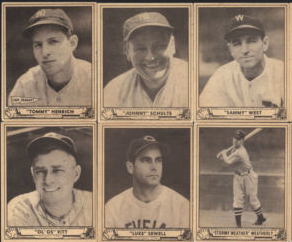 to do that, while not costing you a month's pay for a few dozen cards.  This is especially true in the mid-to-late 60s, where the supply of graded cards in PSA 7-8 is quite large.  You can often buy these so cheaply that it'll cost you less than it cost the seller to grade them...sometimes for just a couple of dollars!  It's hard to find quality 'raw' cards at shows for that price, which means it's a no-brainer.   Inexpensive baseball cards doesn't have to mean crummy.
Another tip is to look for sellers who are offering large lots or complete sets of mixed vintage cards.  Sometimes sellers are too lazy or don't have time to list cards individually.  Competition to buy lots is often less tough than it is for singles since collectors often look for specific cards.  Many times, collectors have bought th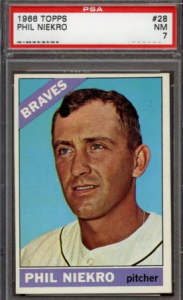 ose types of lots, cherry picked the best cards for their own collection and re-sold the rest for a profit or at least came close to breaking even. Others simply buy the lot and do the legwork of listing individually.
Be sure to look at the description and don't be afraid to ask questions about the lot.  Are there any near mint type cards?  Who are they and how many?  Sometimes they'll even be glad to send you photos if you ask.
Look for 99-cent opening bid auctions.  You won't believe how often cards sell for the minimum bid or barely over.  Many higher grade 1960s and 70s commons sell for a buck.  It's a great way to find great cards in bulk, while buying exactly what you need.  Just be sure the seller is willing to combine shipping (most do).
Sort eBay listings by newest listings first.  Cheap baseball cards wait for no man. Sometimes, a Buy it Now offer is really good but many times they don't last long.  Don't be afraid to jump on a high quality, freshly listed  card at a fair price.  The early bird does indeed sometimes snare the Hall of Famer.  Here's a link
to some nice mid to high grade cards up for bid or sale now.