Looking for the hottest vintage baseball cards on eBay?  Which ones have the most watchers right now?  You've come to the right place.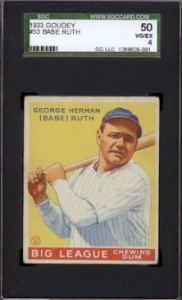 Just click on the links below and you'll see a big list, sorted in order, of the most watched older baseball cards and related material on eBay.  You'll be able to see the current high bid, how many bids each card or lot has received, how many people are watching a particular listing and how much time is remaining in the auction. The list may not always be perfect--you may see a newer card slip in once in a while because of the terms used by sellers, but for the most part, it's primarily vintage baseball cards.
Whether you're a collector, investor, dealer or combination, it's important to know what cards are attracting the most attention from bidders and potential bidders.  eBay no longer offers such a  list and we think this tool will be something you'll utilize a lot!