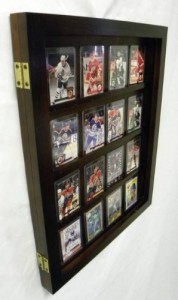 Built a nice little collection or have some special cards you want to display?  There's no reason they have to sit in a box in a closet.  There are several great display cases for graded baseball cards in the market.  Some are very inexpensive and hold only a few cards while others provide a distinguished home for cards that deserve such a residence.
Be sure to hang your sports card display case (whether for graded or ungraded cards) in an area that isn't exposed to direct sunlight at any time during the day.
Collectors who own graded baseball card display cases generally love them.  The great thing is you can easily swap cards out of most display cases.
Of course, the best way to store your ungraded baseball cards can include boxes and pages.
Let's take a look at a few of the cases, in no particular order of preference.  Click the title of each to see them on Amazon or eBay.
1. Lockable 36 Graded Card Display Case
This select hardwood display will hold either 36 graded or 48 non-graded cards on its beveled, sanded shelves. It is elegantly lined with a black fabric background. This already assembled display case also features an acrylic door cover, brass hinges, door latches, wall-hanging brackets, and four shelves.  No assembly required.
The display was originally priced on Amazon for $189.95. As of this writing it is now on sale for $87.95.
2. Hardwood Case for 30 Graded Cards
This hardwood display is a dependable, respectable addition to any good collection.  Built to hang on the wall with shelf space to fully display 30 graded cards. It will work for any card that is under 6" tall and 1/2" thick. The case measures 24 × 36 × 1.5 inches with a hinged acrylic door complete with snap locks.
Made by Pennzoni Display, you can own this one for just under $60.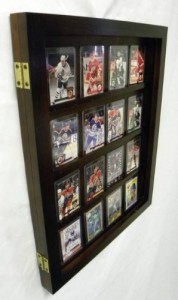 3. Hardwood Case for 20 Graded Cards
Another hardwood case that's slightly smaller than #2, this one will hold 20 of your best cards.  Black in color, it is a nice showcase.
4. Executive 50-Card Display Case
This one features enough room to house 50 of your best graded cards. It's not cheap, but if you have a nice collection, it would be hard to find a better case.  It features high-end wood moulding with your choice of four colors.  It has a hinged glass door with UV protection, a suede lined interior and a cam lock.  Mounting hardware is included.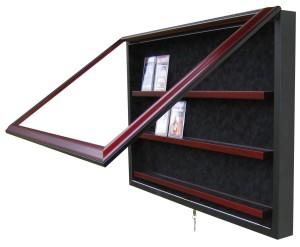 5.  Display Case for 24 Cards with Suede Matting
Also among the higher end cases is this lockable display holds 24 graded cards that the manufacturer says is filled with top-quality suede. The cards sit on shelves that are lined with suede top and bottom. In addition, the cards lean against the suede background. The case is custom made with wood to your specifications. It is immediately handcrafted in the USA after your order. The glass front is almost completely UV resistant.
There are other cases in the market. See what Amazon is offering here
. For eBay, click here.
You can order storage boxes for graded baseball cards and other supplies directly from PSA.