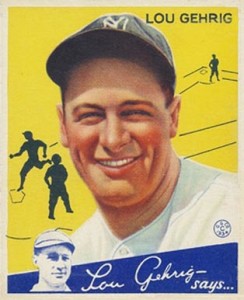 Whether you're an active collector, one who is getting back into the hobby or someone who has never collected before, a list of some of the best baseball cards to buy can be helpful.  You may have some things you like, but the thoughts of an experienced collector might lead you to go after something you hadn't thought of before.
For collectors the concept of the best player not being the most expensive card in a set is hard to understand. A good example of that is the T-207 Louis Lowdermilk which is many multiples the value of a Hall of Famer in the set.  For non-dedicated collectors the thought of a player they never heard of being a multiple of a Hall of Famer is a hard one to comprehend. That trend continued through the 1960's where for example a single print high number in the 1966 set such as the Grant Jackson rookie card or Willie Davis is actually more expensive in the price guides than a player such as Carl Yastrzemski. However, if you're not really an avid set collector and want the overall safest way to go the best path is probably to acquire the first-tier Hall of Famers from popular sets.
Please note for all of these cards we are going to list it's recommended you purchase a card graded by one of the big three (PSA, SGC or BVG) grading companies. For investment purposes, as well as for liquidity reasons, what is considered third party grading is well worth the investment.
Best Pre-War Baseball Cards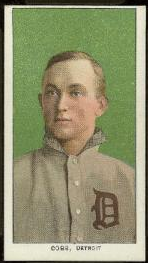 You may be already aware that Ty Cobb had a career batting average of .367 and no one who has retired in the past 70 years has come within 20 points of that figure. While the T206 tobacco cards can be pricey, there are enough of them still around that you can find a good selection of T206 Cobb cards on the secondary market. There are always buyers for these-and always will be if you need to sell down the road.  There are four different Cobb variations which you can see on eBay here.   Any of the T206 Ty Cobbs are worth putting your hard earned money into for long term purposes.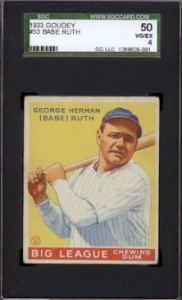 Our next two players and cards both come from the depression-era Goudey sets. Both the 1933 and 1934 sets were issued in sufficient quantity to be reasonably available and we are going to feature Babe Ruth in 1933 and Lou Gehrig in 1934.
Ruth had been appearing on various cards prior to 1933 as he had been in the majors for nearly two decades by that time,  but the Goudey cards are the most accessible cards issued during  his playing career, having been widely issued inside packs of bubble gum.
Goudey cards are really the first nationally distributed bubble gum cards and the comprehensive set is extremely popular. There were actually four Ruth cards issued in the 1933 Goudey set and all have their fans.  Buying the best example at the best price is good advice here.
While Babe Ruth was batting third for the Yankees around that time, his teammate Lou Gehrig was batting fourth. Today we know Gehrig as much for being afflicted with ALS as much as for his greatness on the field.  His famous "Luckiest Man"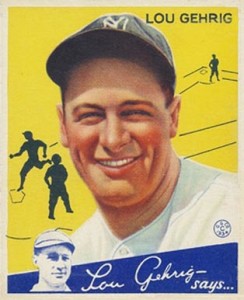 speech transcends sports.  Gehrig's life was also immortalized in the classic "Pride of the Yankees" movie with the speech intoned in full by Gary Cooper. In fact, in the movie version of that speech you can see Babe Ruth in the background.
While the 1934 Goudey set is a bit more difficult than 1933 there are still enough for collectors to find these cards.  Gehrig appears twice in the set including the card where he offers a big, dimpled smile against a brilliant yellow background.  You can see 1934 Gehrig cards on eBay here.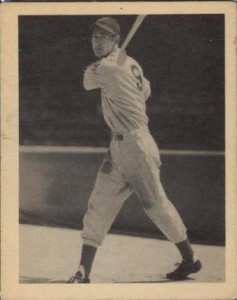 Our final pre-war card to discuss is the 1939 Play Ball Ted Williams rookie card.  It is a perfect storm of an early card of a great player to go with a well distributed set.  A nice front photo to go with text on the back makes this a great card to own.  You could also consider the 1941 Play Ball Williams, a color card from the season in which he hit .406.
Popular Post-War Baseball Cards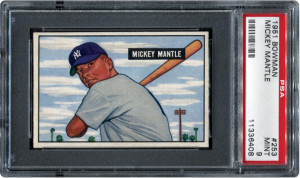 Post-War cards begin with 1951 Bowman and the rookie cards of both Mickey Mantle and Willie Mays. During what some call the golden age for New York baseball (1947-1957) one of the great constant arguments from kids at that time was who is better: Mays or Mantle? Even today, some statistical models say Mantle was better while others say Mays was better. However, during the time they were in New York simultaneously, both players won MVP awards and led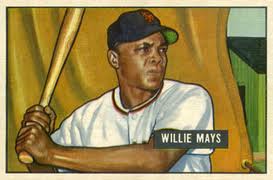 their teams to championships.
In a terrific twist, both of these players were in the last series of the 1951 Bowman set, as young, promising players. The fact they are both in the higher number series also lets us determine who is actually more popular with collectors (Mantle). Either way, both are iconic rookie cards that have proven to be very good investments over time.  The same goes for the 1952 Topps Mantle, easily the most sought after (and expensive) post-War Hall of Famer.  In fact, any high grade Mantle or Mays is a pretty solid long-term bet—and fun to own.  There's growth potential for both and a few are usually available via major eBay sellers or large catalog auctions.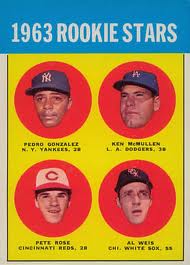 In the 1960's, perhaps the best baseball card to own on several levels is the 1963 Topps Pete Rose rookie card. Rose is the exception to the rule about highest tier Hall of Famers.  Although he is the all-time hits leader and would be a top tier Hall of Famers, Rose is not eligible based on the gambling admissions he has made during his time as the Cincinnati Reds manager. That puts him in the same tier as Joe Jackson who, because of his role in the famed "Black Sox Scandal", is actually more popular then players who successfully completed their HOF career. Rose is much the same way and in addition, the 1963 Topps card is from a higher number (or more difficult) series in 1963.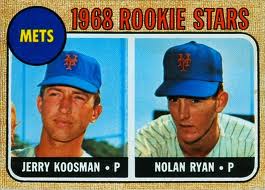 Another on our list of the best baseball cards to own would have to be the 1968 Topps Nolan Ryan/Jerry Koosman rookie card.  Ryan's record of seven no-hitters isn't likely to be surpassed, nor will his career strikeout record.  The card's status grew during the latter stages of his career as he broke records and reached 300 wins.  Ryan rookie cards are plentiful on eBay, but have maintained their value and grown at the highest levels.
Popular Modern Era Baseball Cards
Perhaps the most important card of the 1980's has also proved to be one of the most popular and durable cards of what is now called "the over production" era. The 1989 Upper Deck Ken Griffey Jr.  was card #1 in that set. As the first card from the company which helped usher in the age of premium cards, and having a great design with a beautiful photo there is little doubt this is the most popular card of that era. In addition, no one has ever named Griffey as a PED user of any sort and in reality his career did follow a fairly normal pattern.  There is little doubt Griffey deserves to be a first ballot Hall of Famer.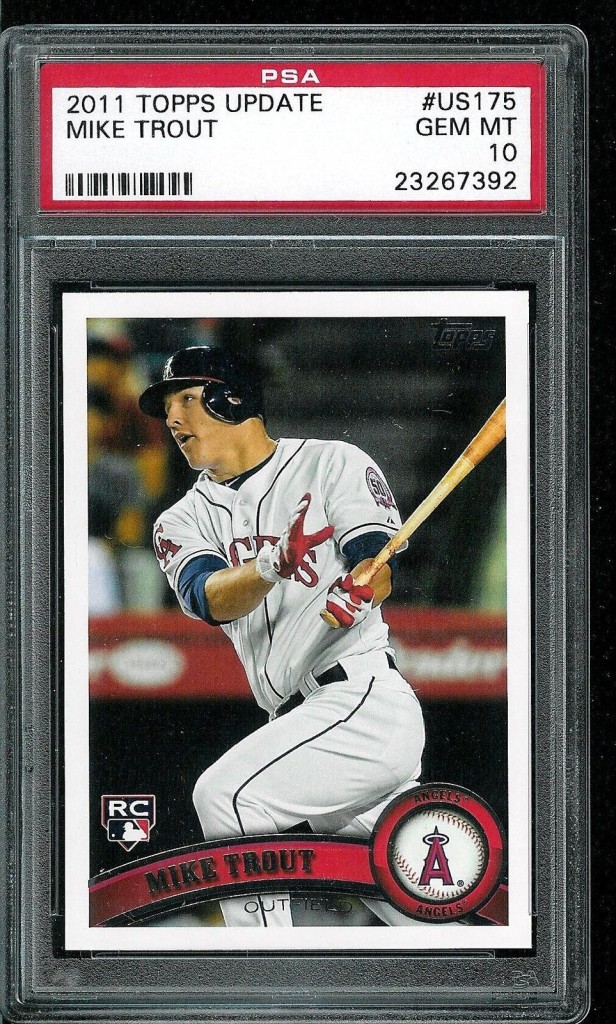 Frankly in today's fragmented card world it may be difficult to guarantee the future but if any base card takes over as the card of the future it might be the 2011 Topps Update Mike Trout. Accessible, yet popular and expensive in high grade, it's the card to have if you are going to have any one basic card issued over the past few years. It's already had several price explosions and looks like the value will hold over at least the next decade as long as Trout stays healthy.
The best baseball cards to buy can include those that are solid investments or simply those you like better than others.  If your passion is more about newer cards of future prospects, the best advice is to buy low serial numbered autographed rookie cards.  If you love older cards, buy what makes you happy or follow what the crowd is buying.  The choice, ultimately, is up to you and there is no wrong answer.