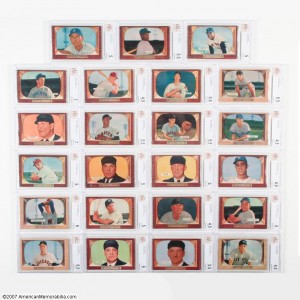 Beckett Grading Services promises to complete your grading order on time or it's free.  One of the most well-known names in the business, Beckett graded baseball cards are well respected, although the company grades far more modern era cards than it does vintage cards.  Still, few collectors have issues with Beckett's vintage card grading.
BGS typically refers to modern era cards graded by the company while BVG is for vintage cards.
Beckett Grading Services uses a 1 to 10-point grading scale, with descending increments of one-half point (for example 10, 9.5, 9, 8.5, etc.).  The company offers a detailed report and separate "s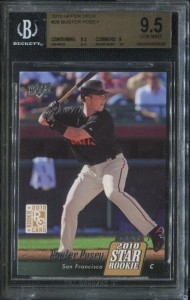 ubgrades" on your card's key attributes such as centering and corners.  It doesn't use "OC" for off-center or "MK" for mark like PSA.
Beckett Graded baseball cards in top grade can be identified at a glance through the company's premium-colored labels. A gold label on the cardholder's 'flip' or label, signifies the highest graded cards (9.5-10). A silver label is placed on the label of cards graded 8.5 to 9. Cards in all other grades are identified with a white label.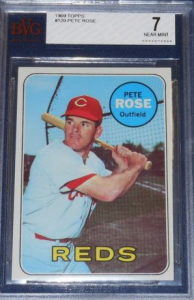 our key categories are used for 'subgrades' on the BGS report card. They are: centering, corners, edges and surface.  Grades from each of those categories will be used to help determine a card's final overall grade. The subgrades are printed on the label that is facing up on the back of the Beckett graded cards.
Beckett often makes headlines for its newer rookie card sales.  Collectors of modern era cards often prefer them graded by Beckett and will pay thousands of dollars for cards in BGS 9.5 or 10 grades.  In fact, many of the highest priced 21st century cards sold online are in Beckett holders.  However, a T206 Honus Wagner card was graded by Beckett a couple of years ago after a non-collector decided to liquidate a small collection that had been in the family.  It sold for $317,250, even in a lowly "Poor" grade.  Beckett graded cards do not suffer in the market.