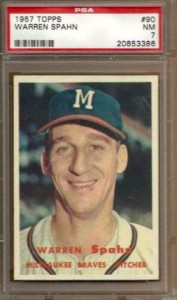 Way back in the day when PSA graded the now famous T206 Honus Wagner card in near mint-mint (8) condition, although we have since discovered there were some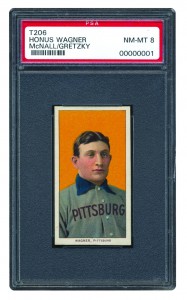 alterations, no one was truly aware of the long-term impact of how third party graders, noticeably PSA, SGC and BGS/BVG would transform the card market. I remember working at Beckett when grading companies just began to take off.  Unlike some people I was working with (and at this point I'm not sure who agreed or disagreed with me), I understood immediately how important graded cards would be to the hobby but underestimated how grading would be perhaps the most useful tool in selling cards. That was because, as a "print" media guy, I did not understand just how ubiquitous the Internet would become in the card collecting hobby.
Remember, when the grading companies began, eBay was still in the planning stages and most of the other buying and selling methods still involved interpersonal communications such as shows or stores or through print media such as Tuff Stuff or Sports Collectors Digest.  Because the transition was reasonably smooth but did take time,  the impact really wouldn't be known until the last 15 years or so.
A great example of this was in the late 1990's, I took a trip to a show in Niagara Falls and also stopped by Dave and Adam's Card World in Buffalo.  As with many of my trips there were some funny instances, such as when Adam Martin asked me to pay for a Chinese lunch for everyone in the store (including those working the back room for mail order) that day. I realized that might not be something I could get written off when I got back to Dallas so I was able to get a pizza order instead and did that well within our budget.
That anecdote aside, there were a couple of very positive sports aspects to what they were doing in the store. The first was for everyone who c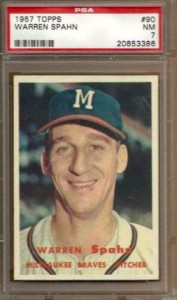 ame in to buy whatever "non-sports" product was popular, they were giving every collector some hockey packs as they realized that what was currently "HOT" was a fad but the long term would be better served by introducing everyone to hockey cards as hockey was then, and still is now, very popular up in Buffalo.
The other positive aspect was the 'test" every applicant was given. One of the questions involved grading and if I recall correctly, I came up with an answer such as "When I see a card is a PSA7 (or a BGS 7) I have an understanding of what that card should look like".  Even 15 years later, I still have a pretty good idea what a PSA 7 looks like. The funniest aspect was according to Adam, they had not yet thought of that as another response, although they were already very active in selling newer cards on EBay.
We now know, other than a few holdouts among folks in places like the Net54 Vintage Message Board that most collectors of older cards truly appreciate having at least their key cards graded. I have actually been told by Leon Luckey,  head honcho of those boards, that some of the people who are most vocal on the boards about "raw" cards ask Leon to have their cards graded when they give them to him for auction purposes.  For those of you why may be holding out, that is fine, but please understand, grading is here to stay and the future for graded cards remain bright.
Rich Klein wrote this story. He can be reached at Sabrgeek@aol.com