The rise of counterfeits, growing value and a need for independent evaluation are what gave rise to the sports card grading industry.  Some didn't like the idea at first.  In fact, it took about a decade for grading to become widely accepted in the hobby.  Among collectors, vintage graded baseball cards are now one of the most popular segments of the industry.  Thousands of cards are graded each month by the three major grading companies.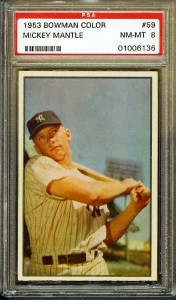 This site aims to help the newcomer learn a little more about the grading industry and also provide an easy way for the seasoned collector who specializes in graded cards to quickly find what they're looking for on a site that brings the auctions to one central location.
Collecting vintage graded baseball cards provides challenges.  Many cards aren't cheap, especially in high grade.  You'll face competition from collectors who have more money than you do!  However, it also offers the opportunity for collectors with a good eye to spot outstanding cards that might be bargain priced because of a virtually invisible flaw that only a grader with a huge loupe can see.  One can build eye-pleasing, professionally graded sets without even having a card graded themselves, but shopping our links to eBay on a regular basis.
No matter if you love the T205 'Gold Border' tobacco set, the 1933 Goudey baseball set for all of its great Babe Ruth cards, the 1951 Bowman or the 1970 Topps issue, it's hard to beat the look of vintage graded baseball cards, or the organization aspect they provide.   Read our articles and follow the links to find the cards you want.  We've cut through the clutter thanks to a partnership with eBay to bring you only the old cards you love.