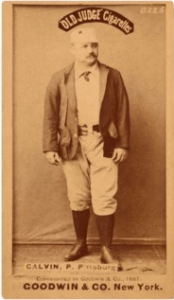 As photography began to become more widespread among the masses during the latter half of the 1800s, baseball teams began to pose for photographs.  What are widely considered the first baseball cards ever issued were, in fact, team photos of the Cincinnati, Brooklyn and Philadelphia clubs issued by sporting goods maker Peck and Snyder as advertising tools in 1869.  Nineteenth century baseball cards are among the most treasured by vintage card collectors for their scarcity and the challenges that they present.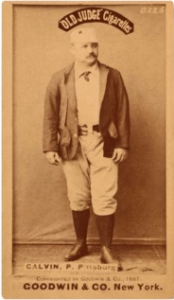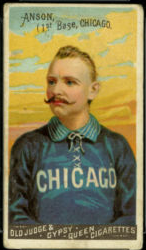 Tobacco baseball cards, issued with packages of chew and smokes began to hit the market with the arrival of Old Judge cards in the 1880s.  Allen & Ginter and Goodwin's Champions are among the other well-known 19th century baseball cards.
The colorful Goodwin's cards of 1888 are especially attractive. There was a collector's album for the Champions cards and the few surviving examples sell for high prices when placed in major sports card catalog auctions.  Current card manufacturers Topps and Upper Deck have issued modern era sets loosely based on the design of those classic originals.
The Old Judge cards were issued in massive numbers, updated to reflect players changing teams and featuring studio poses that make for some very unique images.  While rather dull in color, their studio posed pictures paint an interesting picture of uniforms of the period and are a passion for 19th century collectors, who delight in finding unknown variations of the set.  Despite the quantity produced, most were lost to time and disinterest in the days before they were even considered collectible.  A large book, issued recently, catalogs most of the known Old Judge cards of the era.  For those who collect the set, it's an excellent resource.
Just So Tobacco, Gypsy Queen and Kalamazoo Bats are among the other popular 19th century baseball card issues.  Trade cards, given away as an advertisement for various products often picture cartoon or artist''s renderings of baseball scenes.  These are readily available online and because they usually don't depict actual big leaguers of the era, can be found at very reasonable levels.  Low to mid-grade copies usually bring less than $100 at auction.
Nineteenth century baseball cards are rare, but certainly not impossible to find.  Some dealers even specialize in them and honestly, the pricing of the mid-grade cards seems to offer an opportunity for long term growth based on the simple laws of supply, demand and unique appeal.
We have combed through eBay's listings and you can click here
to see the 19th century baseball cards being offered now, all authenticated and graded.