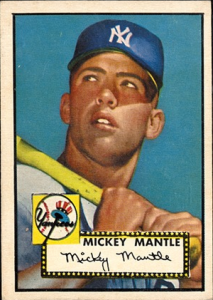 Few card sets were issued after the outbreak of World War II, but in the late 1940s, baseball cards entered their golden era.  Leaf Gum produced a set that included what is now regarded as Jackie Robinson's rookie card.  Also in the late 40s, the Bowman Gum Company snapped up the license to produce large sets of current major leaguers.  The 194os-1980 baseball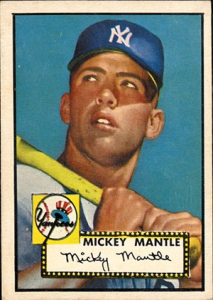 cards era saw the hobby grow from a kids' pasttime into one that adults shared with equal interest.
Yogi Berra and Stan Musial are among the rookie cards claimed by Bowman, which continued producing sets through 1955.  The 1951 Bowman Mickey Mantle and Willie Mays rookie cards are the most valuable produced by Bowman, beating upstart Topps to the punch by one year.
Topps entered the scene in 1951, but didn't produce its first full set until the following year.  The 1952 Topps baseball cards are among the hobby's most desirable—and expensive.  The final series didn't sell well and many were destroyed including hundreds, if not thousands, of Mantle's first Topps card, which now sells for several thousand dollars even in less than perfect shape.  High grade Mantles sell for tens of thousands of dollars and only a handful exist today.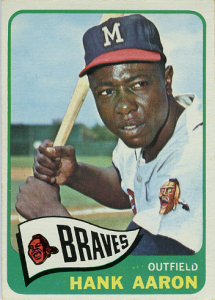 Topps continued to be the lone licensed partner of Major League Baseball throughout the 1950s, 60s and 70s.  Fleer issued some "All Time Greats" sets in the early 60s and a small set of current players in '63.  The 1963 Fleer baseball cards were issued with a cookie that didn't pass the taste test for many youngsters.
Most of baseball's stars had their first rookie cards on Topps products including Hank Aaron, Ernie Banks, Sandy Koufax, Roberto Clemente, Roger Maris, Brooks Robinson, Carl Yastrzemski, Pete Rose, Tom Seaver, Rod Carew, Nolan Ryan, Mike Schmidt, George Brett, Robin Yount, Ozzie Smith and more.
Topps finally lost a challenge to its monopoly in the late 1970s and the 1980 Topps baseball cards were the last to have no competition.  Vintage baseball cards issued from the 1940s -1980 make up the most popular eras and sets for today's collectors.  Attainable, affordable in average condition and reflecting tremendous interest in the game and its cardboard heroes.
Click here
for thousands of 1942-1980 cards listed on eBay.