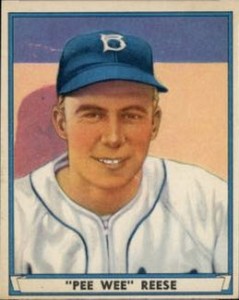 In what is called the "pre-War" card market that dates from the early 1940s on back, one of the toughest issues which are discussed is the matter of rookie cards. Since 1948, the market has always had a major manufacturer producing cards so there is a nice linear year by year progression. However, we do not usually have the same easy distinction for those earlier cards which is why it is nice when a player's rookie season dovetails with their first reasonably obtainable card.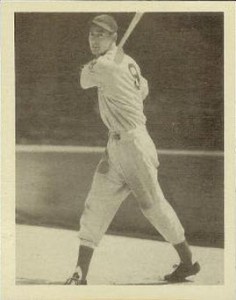 There are two major examples we can recall of future Hall of Famers having a card from what we consider a major manufacturer today in their rookie season. Those two cards are the 1939 Play Ball Ted Williams card the 1941 Play Ball Pee Wee Reese.
Both were issued in the player's rookie season and feature good photos of them as very young men.  There are always a lot of arguments about pre-War collectors about which issue represents a player's rookie card in the pre-War era but that's not the case with Williams and Reese.
1939 Play Ball Ted Williams rookie card
Williams recorded his first big league at bat and first hit in 1939.  He was a somewhat gangly 6'4 Californian when he arrived at Fenway Park after winning the Triple Crown in the American Association in 1938. Williams would finish the day 1-for-4 and rap out a 400-foot double for the first of 2,654 hits in his career on that day.  A scant two years later, Williams would become the last major leaguer to bat .400 in a season.
The 1939 Play Ball Ted Williams is a very popular black and white issue, selling for $2500-3000 in near mint (7) grade and $1200-1600 for middle of the road type cards.
1941 Play Ball Pee Wee Reese rookie card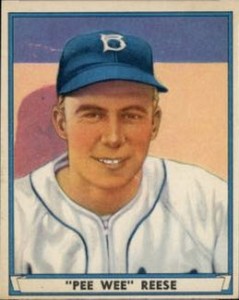 The brilliance of Pee Wee Reese was immediate as he, along with fellow youngster Pete Reiser who led the NL in batting that 1941 season, brought the first pennant to Brooklyn since 1920.
Reese would become the only Dodger to play in all their World Series games between 1941 and 1956 culminating in Brooklyn's only World Series title in 1955.
The 1941 Play Ball Pee Wee Reese, which features the smiling shortstop's artistic image, is attainable for around $300-400 in average condition, with high grade examples about double that.
Of course, we did not know the future for either Reese or Williams in those days but for fans and scouts watching, their playing excellence enthralled fans for the next two decades.
Several of each card are typically listed on eBay. You can see them here
.