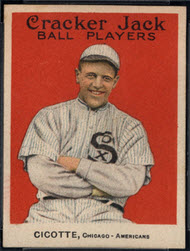 Fans associate Cracker Jacks with baseball thanks to a famous line in Take Me out to the Ballgame, but what very few of them may realize is that they produced one of the first baseball card sets.  Collectors of vintage cards are well aware of them, though, and today, they're among the most valuable and popular issues ever made.  While only a few can afford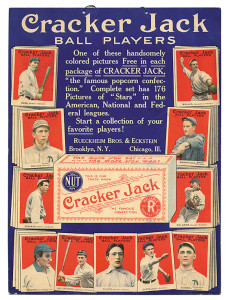 to build a set, below is a list of five underrated 1915 Cracker Jack cards to consider if you've always wanted a few meaningful cards from the second of their two famous sets.
The set included 176 cards in total but thanks in large part to the paper drives of World War I and the natural passages of time before card collections were thought of as heirlooms, many didn't make it to the second half of the century.
Cracker Jack cards were much bigger than their cigarette card counterparts. At 2 1/4 by 3 inches, they  are a little bit smaller than modern cards today but still much larger than most of the sets issued during the time.
Collectors know the 1914 set, which unlike its '15 brother wasn't offered to consumers in complete set form, is far more scarce and that's why many choose to tackle the later issue. In their short time span, Cracker Jack cards left a huge impact on the card world.
Here are some 1915 Cracker Jack cards to consider that will cost more than a common, but will be great conversation pieces for your collection.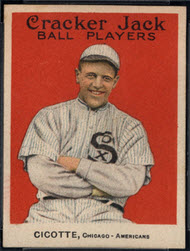 Ed Cicotte #94- Often credited as the father of the knuckleball, Eddie Cicotte enjoyed a long and successful big league career. Winning 208 games in his 14 year career while posting a 2.38 ERA, you might think he should be in the Hall of Fame. He is not however, as he is banned from baseball due to his participation in the infamous 1919 Chicago Black Sox scandal.
A G-VG graded example of Cicotte's 1915 Cracker Jack card, which features him posing with a big grin on his face in much happier times with the White Sox, runs in the range of $275-450.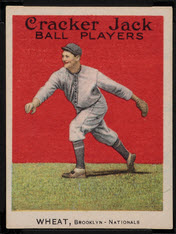 Zach Wheat #52- One of the greatest Dodgers players of all time, Zach Wheat may be the most underrated player of his generation. A Hall of Famer who hit .317 lifetime and gathered nearly 3,000 hits, Wheat's career is not celebrated nearly as much as it should be.
Wheat cards still are affordable for all collectors.  With a respectable example from the Cracker Jack set available for around $250, Wheat is a guy who could and should be in every avid pre-war collector's collection.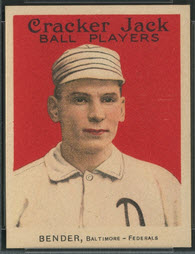 Chief Bender #19- A Native American who is often credited as the inventor of the slider, and a Hall of Famer, Chief Bender was one of the game's early greats. Going 212-127 in his career, Bender posted a 2.46 ERA and tossed 40 shutouts in his big league career. Winning three World Series, Bender was on a third of the Athletics' championship teams. That's not a coincidence.
Despite his Hall of Fame career, his cards are affordable. You can usually grab a PSA 3 for under $200.
Harry Hooper #35- A member of one of the greatest outfields in MLB history along with Duffy Lewis and Tris Speaker, Harry Hooper was known for his strong throwing arm. Although he was not terrific defensively (a career .966 fielding percentage), Hooper did manage to rack up 344 assists in his 17 year big league career, placing him sixth on the all-time leaders list. Elected into the Hall of Fame by the Veteran's Committee in 1971,
Hooper's cards are still affordable despite all he accomplished. Going for around $250-350 in a 3-4 grade, there is no way any avid Red Sox collector could pass up this card.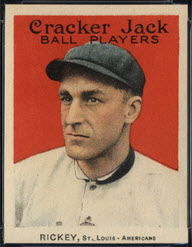 Branch Rickey #133- Better known as the general manager who signed Jackie Robinson and Roberto Clemente, the first black and first Latino big leaguers, Rickey spent a couple of seasons as a major league catcher.  Elected into the Hall of Fame in 1967, Rickey did it all in baseball including managing a few teams. You'll pay $400-500 for a lower grade example, which still seems like a bargain for one of the few baseball cards ever issued of someone who made such an impact on the game.
There are other recognizable names in the 1915 Cracker Jack set to consider as well.  It's a very expensive set to complete, but owning even one or two cards from one of the most attractive pre-War sets ever issued is definitely worth the investment.  There are usually a few dozen available for sale or auction and you can see which ones are available on eBay here.